Other Books Published by CERC
The Chinese Learner: Cultural, Psychological and Contextual Influences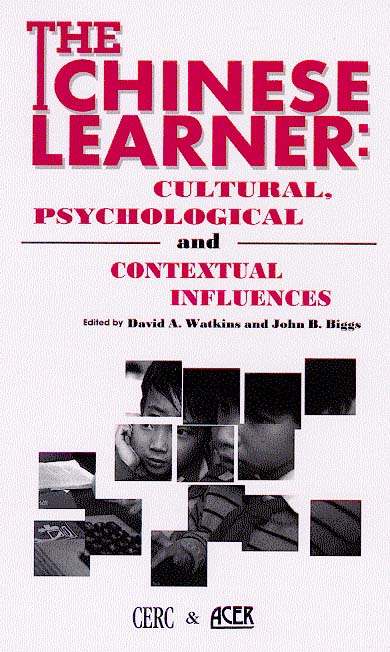 Edited by David A. Watkins & John B. Biggs
ISBN 10: 0-86431-182-6; ISBN 13: 978-0-86431-182-5. (1996, reprinted 2005; 285pp.)
HK$200 (local), US$32 (overseas)
Published by Comparative Education Research Centre (CERC) & Australian Council of Educational Research (ACER)

In August 1996 CERC's first book, The Chinese Learner: Cultural , Psychological and Contextual Influences was in print. This is the first book to paint a clear, research based picture of how Chinese students and their teachers see the context and content of their learning both in Hong Kong and abroad. The focus of much of this research is the question 'How can Chinese learners be so successful academically (often out-performing their Western peers) when their teaching and learning seems to be so oriented to rote memorization?'. It is concluded that at the heart of this paradox are cross-cultural differences in the very processes of teaching and learning , particularly concerning the relationship between memorizing and understanding and the nature of motivation. Widely held Western stereotypes and misconceptions of Chinese learners are shown to be largely without foundation.

Chapter Highlights:
1. Learning Theories and Approaches to Research: a Cross-cultural Perspective
-------David Watkins
2. Coping with Second Language Texts: the Development of Lexically-Based Reading Strategies
--------Robert Keith Johnson and Agnes Yau So Ngor
3. Memorizing and Understanding: the Key to the Paradox ?
--------Ference Marton, Gloria Dall' Alba and Tse Lai Kun
4. Chinese Students at an Australian University: Adaptability and Continuity
--------Simone Volet
5. Collaborative Learning: the Latent Dimension in Chinese Students' Learning
--------Catherine Tang
6. The Cultural Context for Chinese Learners: Conceptions of Learning in the Confucian Tradition
--------Lee Wing On
7. Western Misperceptions of the Confucian-heritage Learning Culture
--------John Biggs
8. Accepting Personal Responsibility for Learning
--------Farideh Salili
9. Hong Kong Secondary School Learners: a Developmental Perspective
-------David Watkins
10.The Chinese Learner in Retrospect
-------John Biggs and David Watkins
Readers interested in this title might also be interested in Teaching the Chinese Learner and Revisiting The Chinese Learners !