CERC Studies in Comparative Education, No.31
---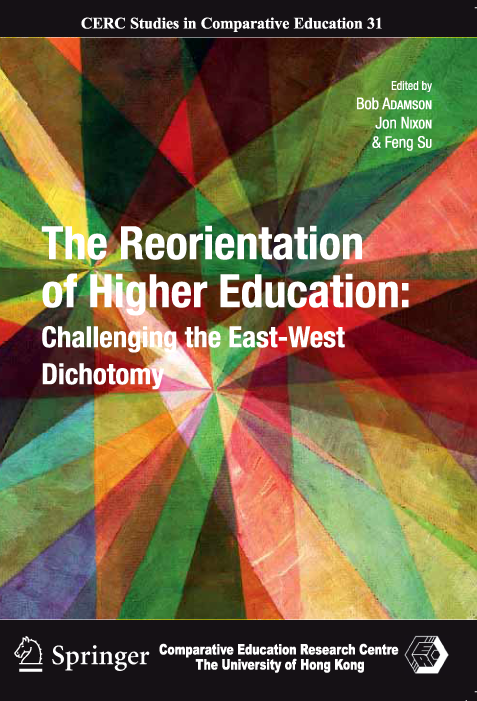 New !
The next book launch will be held on 16 October 2012 (Tue) in the Hong Kong Institute of Education from 3:00pm. Click here for details!
Click here to view the snapshots from the launch held on 18 September in HKU!
The Orientation of
Higher Education:
Challenging the East-West Dichotomy
Edited by Bob Adamson, Jon Nixon & Feng Su
ISBN 978-988-1785-27-5
Sept 2012; 314 pages
HK$250 (local), US$38 (overseas)
Published by Comparative Education Research Centre (CERC) and Springer
Click here to download the flyer of the book
This book presents accounts of the repositioning of higher education institutions across a range of contexts in the East and the West. It argues that global governance, institutional organisation and academic practice are complementary elements within the process of institutional repositioning. While systems, institutions and individuals in the different contexts are subjected to similar global trends and pressures, the reorientation of higher education takes diverse forms as a result of the particularities of those contexts. That reorientation cannot be explained in terms of East-West dichotomies and divisions, but only with reference to the interflow across and within systems. Globalisation necessitates complex interconnectivities of regionality, culture and geopolitics that this book explores in relation to specific cases and contexts.
Bob Adamson is Professor of Curriculum Studies at the Hong Kong Institute of Education and the UNESCO-UNEVOC Director for Hong Kong. Jon Nixon has held professorial posts in four UK institutions of higher education and is currently Honorary Professor of Educational Studies, University of Sheffield, UK. Feng Su is a Lecturer in Education at Liverpool Hope University, UK.
Click here for Table of Contents

********************************