Brief Review
Learning for Higher Education Leadership Summer Institute 2014 at HKU
The Summer Institute, which took place between June 16 and 27, 2014, was designed for presidents, ministerial officials, and decision makers. It is a learning programme aimed at exposing participants to new concepts and innovative practices in the realm of higher education, hence the theme "Higher Education for Tomorrow". This programme is the second time the Summer Institute was offered since 2013.
This year, 31 participants are from Afghanistan, Cambodia, Egypt, Laos, Macau, Mongolia, Myanmar, Philippines, and Vietnam. Among them, 12 are Rectors (i.e. Presidents) of leading institutions in Mongolia, Myanmar, Cambodia, and Laos. The others are from national ministries.
The keynote on global trends was presented by Dr Francisco Marmolejo who leads the higher education area in the World Bank. Resource Persons Professor Dato' Dr Morshidi Sirat (Malaysia), Professor Jandhyala BG Tilak (India), and Professor Yang Rui (HKU) helped explain the systemic considerations in their respective jurisdictions.
The highlight, however, was the introduction and visits to the various components of HKU, with intensive interactions with the respective administrators and leaders. They met the registrar, the finance officer, and the dean of students.
The last part of the Summer Institute coincided with the summit. This summit was joined by more leaders from the region, either as participants or as resource persons, together with representatives from the Asian Development Bank and other organizations. The theme was "Innovation".
The event received very favourable commendations from the participants. "We have had intriguing insights at the sessions in Higher Education Tomorrow. The institute is a good hub to foster more and more effective collaborations between the Asian universities," said Orkhon who is from Mongolia.
"The programme has been absolutely amazing and all the University and staff have been extremely helpful and kind. It is magic that the programme could manage to turn the equivalent of hundreds of hours of study time into 10 days," said Edward, who is from Macau. The quality and wisdom among our HKU colleagues from various divisions have amazed not only the participants but even our own Faculty members: "I never knew all these happened in my own University!" The event was sponsored by the Asian Development Bank, the Open Society Foundations and UNESCO, and a generous donation from an anonymous donor to HKU.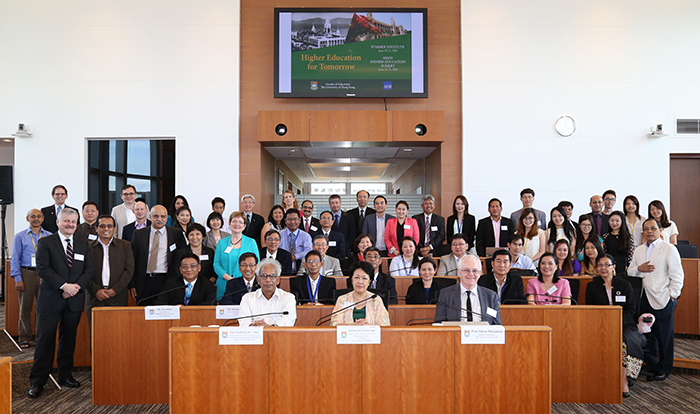 Excerpt from: Faculty of Education (2014). Learning for Higher Education Leadership Summer Institute 2014 at HKU. Education Matters, Vol. 12.2, p. 11.